NOTE THAT THIS IS AN EXCERPT FROM THE NEWSLETTER
FEATURING THE SUMMARY AND ANYTHING SPECIFIC TO THE NASHUA
Hello Granite State Democrats!

Last week, we showed Sununu and Trump the power of Democratic activism. Hundreds of New Hampshire's activists participated in protests, vigils, and other events across the state to expose Trump's broken promises. We know that together we can beat Donald Trump, which is why the 2020 Democratic presidential New Hampshire campaigns issued a joint statement saying no matter who the Democratic nominee is, we are united in this fight.

Our future relies on your hard work to ensure that Democrats get elected! Whether it is writing letters to the editor, sharing tweets, or signing up to help canvass or make calls, you are critical and you are making a difference!

Please continue to use this regular newsletter as a tool for your local committee meetings, volunteer engagement, or as a supplement to your own regular newsletter.

As always, please don't hesitate to reach out to us with any questions you may have.

Have a wonderful rest of your week,
Slate Goodwin is now the New Hampshire Democratic Party's Political Director after serving as a Regional Organizing Director during the Coordinated Campaign and will be the point of contact for Coos, Grafton, Hillsborough, Sullivan, and Merrimack Counties and the cities of Manchester and Nashua. He can be reached at sgoodwin@nhdp.org.
Apply to Volunteer at the State Convention
The New Hampshire Democratic Party 2019 State Convention is Saturday, September 7th and we need volunteers! This is on track to be the largest gathering of Democratic activists in the country since the last Democratic National Convention. If you would like to help, please complete this form to apply to be a volunteer. We will be reaching out closer to the convention with more details. If you have communications experience, you can sign up to be a press volunteer here.
As always, if you have any questions, please email the NHDP Political Team at political@nhdp.org. Thank you so much for your constant help and support!
2019 NHDP State Convention
DELEGATE TICKETS
Registration is now open for convention delegates! Delegates, check your inbox (and spam) for emails that came from team NHDP over the past couple weeks.
Only Delegates can register at this link, and registration is non-transferable. The website is connected to your email address we have on file, and each delegate can only purchase one ticket for themselves. If you are having trouble registering with your email address, please contact convention@nhdp.org and we will respond in as soon as possible.
Make sure to register today! The final day for delegate ticket registration is Wednesday, August 28th. There will be no registration at the convention center door.
2019 NHDP State Convention
GUEST TICKETS
Have you heard the news? Tickets for the New Hampshire Democratic Party 2019 State Convention are now available for members of the public.
This year's convention will be held on Saturday, September 7 at the Southern New Hampshire University Arena in Manchester. Join all of our Democratic presidential candidates, national Democratic leaders, state legislative leaders, activists, friends, and candidates up and down the ballot for an exciting day!
Every four years we host the presidential candidates at our state convention, a tradition that started back in 1983. This year's convention is on track to be the largest event thus far – so get your guest ticket today.
Get your ticket today – before they run out.Blue Bench Training
The New Hampshire Democratic Party is excited to partner with the National Democratic Training Committee for a Blue Bench Training! This is a free event, open to anyone who is interested in running for office, is staff on a campaign (or hopes to be), or for anyone within the local party infrastructure!
Register through the NDTC link today to reserve your spot at this exciting training opportunity!
Sununu for Sale Campaign
Last week the NHDP launched our Sununu For Sale campaign – exposing how Chris Sununu has consistently sold out Granite Staters by pushing policies that only benefit his corporate donors, his special interests, the Republican Party, and himself.
Now, we need your help.
On Wednesday at noon in Concord, NHDP staff will be giving out 45 new special limited edition yard signs to expose Sununu's special interest agenda.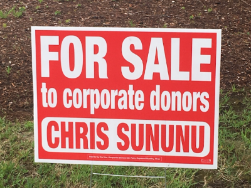 Again, we only have a few signs, and they will go fast. Be one of the first 45 people to sign up at this link to get a sign. If you're one of the first 45 to reserve, we'll send you an email to confirm the pick-up details.
Upcoming Presidential Primary Visits.
As the First in the Nation (FITN) presidential primary season officially heats up, please use this section to learn about when candidates will be visiting the Granite State!
August 22nd – Jay Inslee
Merrimack Town Hall
6 Baboosic Lake Road, Merrimack
2-3 PM

August 22nd – Jay Inslee
Saint Anslem Round Table
100 St. Anselm Drive, Manchester
5-6 PM

August 23rd – Pete Buttigieg
Town Hall in Nashua
505 Amherst St, Nashua
5:45 PM